Sie sind hier: Startseite >
Archiv >
2010/11 2. Halbjahr >
Bromley 2011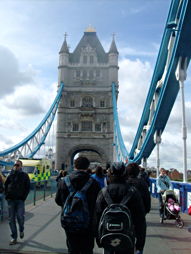 Tower Bridge
In April this year 18 TGG students (years 7 to 10) spent a week in Bromley (Greater London) as part of our regular exchange programme with Ravens Wood School. Our stay in the English host families left a lasting impression on us and allowed us to get a new insight into the `typical` English way of life and the culture of that country.
On our journeys to the city of London we visited lots of famous and popular sights such as Big Ben, the London Eye, as well as Tower Bridge.
One day we went for a walk along the south bank of the river Thames, where we passed Shakespeare`s Globe Theatre, the Battersea Power Station and Grosvenor Bridge.
Most of our free time was spent in the `heart` of London, in Oxford Street and around Piccadilly Circus, where we went shopping, -of course!!!
London is really an amazing city, a city that most of us had never been to before. Consequently, we were instantly fascinated by the variety of life and all its `wonders`.
Our exchange partners were very nice indeed and the hospitality we experienced in the host families was simply great!!
We are all invited to come back next year!!
Text: Bastian Plochg und Joost Theile / Foto: Malte Lucius
2011-06-30, bo